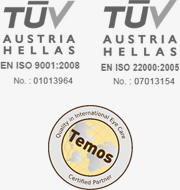 First Temos certified eye hospital worldwide: Athens Eye Hospital, Greece

Congratulations to the ophthalmic clinic "Athens Eye Hospital", which is the first and only facility worldwide that is certified according to Temos standard "Quality in International Eye Care".
A team of two assessors from Germany performed onsite certification and found that it has specialized, experienced & friendly scientific and nursing staff as well as great infrastructures and technical equipment.
"Athens Eye Hospital" offers a wide range of diagnostic, therapeutic and research services which ranks it as one of the best Ophthalmic Centers worldwide. Moreover, the facility is capable of providing high quality care to medical tourists, according to international standards, making an important step for the promotion of our country as one of the top destinations for ophthalmic treatments.
For further information please visit Temos Hospital Guide 
 (source: Temos Hellas)
ISO Certifications
45, Vouliagmenis Av.
166 75, Glyfada