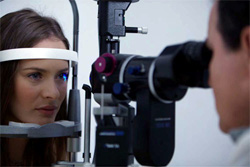 The preoperative eye examination is performed to determine the overall condition of the eyes, the type of cataract and to carry out the necessary measurements that will indicate the correct lens that will be inserted in the eye.
A detailed eye examination includes measuring the vision and corneal curvature, measuring the eye pressure and examining the health of the fundus of the eye.
Furthermore, with the assistance of the ultrasound we measure the length of the eye and calculate the power of the lens to be inserted during the procedure.