Ophthalmologist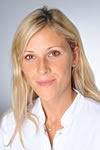 Stelina Gaki was born in Rhodes. She studied Medicine in the Aristotle University of Thessaloniki.
She was specialized an the University Hospital of Cologne, in Germany, where she obtained clinical experience in complicated case of general ophthalmology.
Her main interest is in Strabismus, Pediatrics and Neuro ophthalmology as well as in Glaucoma and Cornea diseases.
She is a Fellow of the European Board of Ophthalmology and a member of the Greek and the german Society of Ophthalmology.
She speaks Greek, English and German.
She works in the Athens Eye Hospital since 2017.