Tears are necessary for the health and the normal function of the eye.
They are useful for lubricating the outer surface of the eye, hydrating the cornea, removing dust and other similar irritants, and they even have a small but measurable refractive power.
Normally, the outer surface of our eye is always coated with a thin layer of tear. This thin layer of tears is evaporated rapidly from contact with the air, but some (unintentional or intentional) blinking (blinking of the eyelids) is sufficient to restore it.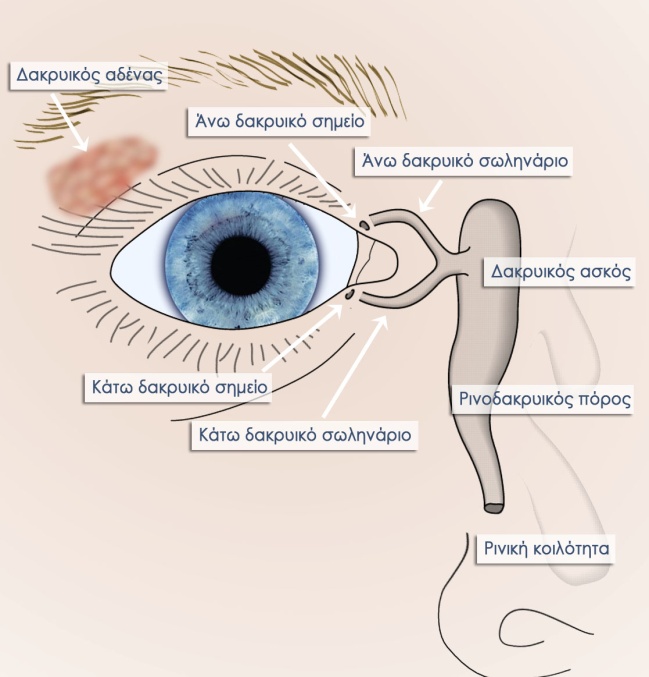 Tears are produced by the main lacrimal gland, which is located in the up and outer part inside the orbit, and also from other smaller ones, located on the eyelids. There is a continuous production and drainage of tears, so that their quantity in the eye is generally kept constant, as both the lack and excess of tears complicate vision and disturb the patient.
The drainage route of each eye starts from two small orifices, the lacrimal punctum, on the rim of the upper and lower eyelid, near the root of the nose. The tears then pass through the canaliculi and through the nasolacrimal duct into the nose end (this is the reason why people "blow" their nose when they're crying).
Obstruction at any point of the sanitation results in overflow of tears from the eye. In many cases the tears' drainage is not completely open at birth. In fact this phenomenon is so common that the obstruction in the first months of life... The occlusion of the lacrimal route is not the only reason that can cause increased tear secretion to a child.
---